Moving Your Furniture Has Never Been Easier! 

Are you planning to move or redesigning your home?

With this Lifting Tool you will make lifting and transporting quick and easy. Save your money on a moving company - you won't need them when you've got our furniture rollers, which make transporting your heaviest furniture manageable.

Safe

&

Easy

 way to

 move heavy furniture!
Worry about how to move the heavy furniture?

 
Our Furniture Lifting Tool will give you an amazing experience for moving your heavy furniture and appliances without any damage. Help you to redesign and rearrange your living space without any hesitation.

Ideal for any home or office furniture, such as sofas, bookcases, tables, chairs, beds, piano, washer/dryer, refrigerator, filing cabinets, pool tables, appliances, exercise equipment. Very simple and easy to use.

Perfectly designed according to your needs and comfort.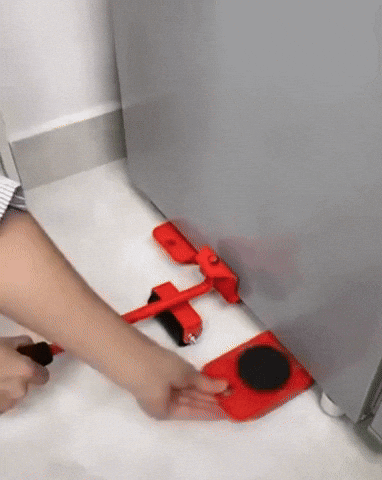 ERGONOMIC & EFFICIENT DESIGN: This Furniture Lifting Tool make moving your furniture easy as pie and a matter of minutes thanks to physics. The ergonomic design lets you lift and move your heavy furniture and appliances without strain on your back.

EASY & INTUITIVE: You will be able to lift your furniture with one hand. Easy assembly, no tools required. Just lift the furniture you want to move up a little and put the rollers underneath and roll away.

MULTI-USE: The Furniture Lifting Tool work on hardwood floors, laminates, and carpet. It doesn't matter where or what in your house you need to move around - desks, tables, sofas, beds, etc. - it just works!

LIFT HEAVY: The weight of your furniture will be evenly distributed on the 4 roller pads - no more heavy lifting and shifting your furniture around. They can bear up to 150 Kg/330Lbs.
Specifications:

Material:

 

Steel body, ABS plastic wheel roller, A3 pry bar, PVC handle, Spray surface

Product weight:

 

1.2 KG

Mobile board size:

 

105 * 80 * 22MM




 
We also offer a 100% satisfaction guarantee so if for any reason you are not satisfied with our product simply return it within 30 days for a full refund no questions asked! 
Everything came quickly through CSE! Everything corresponds to the description! Drag the house safe or a small wall just right! So that the pup itself does not tear not raise)
Arrived fast. Not tested. Think for a refrigerator Media, a table or a single bed. Not know if can carry a refrigerator big. Goods according to announcement.
Is there a locking mechanism when they are in place so it doesnt move when you want the item to be stationery?

There is not a locking mechanism. The weight of the furniture itself was enough in my case to keep it from rolling.

Will it work for heavy items sitting directly on floor?

Our products will lift anything within the admitted maximum capacity. Hewever, it will do the job only if you can handle to get the lifter's platform under the object.

Need to redecorate but you feel like it is impossible and you don't know where to start?

 Furniture Lifting Tool is here to help you no matter how heavy your furniture is. By using the heavy furniture roller moving tools you can do all that in minutes, no pain or sweat involved.

Do you have back problems but still need to move your furniture to have a proper home cleaning?

With Furniture Lifting Tool, you can easily move everything in your home anytime you want. All you have to do is to lift the furniture legs with the furniture lifter just high enough to slide the roller carts underneath, and then simply push the furniture out of the way

Do you need to move your washer, dryer, or refrigerator all alone? You know how hard it is to ask friends or neighbors for help.

The Furnaid Furniture Lifter and Gliders set is here to help. It allows you to do everything you need, like moving couches, refrigerators, washers, dryers, china cabinets, drawers, beds, even pianos, pool tables, or gun safes. And you can do it all by yourself.
Choosing a selection results in a full page refresh.
Press the space key then arrow keys to make a selection.